This pair is a screen accurate replica of the cargo pants wore by T-800 (Arnold Schwarzenegger) in the 1st "TERMINATOR", 1984.

It has accurate pocket pattern and stitches. The color of the original pants in the movie looks different in scenes, olive, khaki, or beige. We use the same neutoral color, single, but it looks different under different lights.

T-800 wore these pants through the entire movie. We recommend them for T1 leather jacket, not only T1 M65 field jacket. 100% cotton.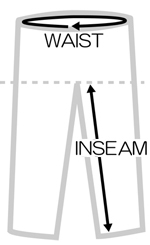 Please choose your waist size, and let us know the inseam(up to 33") you'd like to order, we'll raise the hem.

If you hem up by yourself, we'll ship it unhemmed (34", the hem is not stitched), discount $10.

The standard shipping & insurance cost is US$12 to most countries (7-11 business days). Express mail is $13 to U.S./Canada(2 business days), $19 to UK/EU, $14 to Asia (3 business days). Higher cost for larger sizes over 1 lb.
Waist Size
Price w/hem-up
w/o hem- up
Availability
Item Name:


T1-PANTS

30

"

(76cm)

$64.90

$54.90

4-6 weeks

31

"

(79cm)

$64.90

$54.90

4-6 weeks

32

.3"

(82cm)

$64.90

$54.90

in stock

33.5"(85cm)
$64.90

$54.90

in stock

35"




(89cm)

$64.90

$54.90

in stock

35.8"(91cm)
$64.90

$54.90

in stock

37

"

(94cm)

$64.90

$54.90

in stock

38.2" (97cm)
$64.90

$54.90

4-6 weeks