TOP PAGE
TOPGUN G-1
PATCHES
BTTF DENIM
BTTF DOWN VEST
BTTF SHIRT
FIGHT CLUB CALF
TOUCAN SHIRT
SOCK IT TO ME
STAR T-SHIRT
TRACK PANTS
MAYHEM
BLACK RIDERS
BATH ROBE
SEVEN
FURY
ROCKY
LETHAL WEAPON
i,Robot
REVEL w/o a CAUSE
MIDNIGHT RUN
DONNIE BRASCO
INDIANA JONES
KILL BILL
WALLET
BEAT IT
The BEACH
JACK SPARROW
LÉON MATHILDA
SILVER DOG TAGS
Screen Accurate FIGHT CLUB MOTOCROSS T-shit
This is a screen accurate replica of the MOTOCROSS T-shirt wore by Tyler Durden (Brad Pitt) in "Fight Club".

It's made same as the one in the movie, not only the flont, but also the BACK(you can't see it in the movie). It's made from a patterned roll, but we use only same parts for same looking, we can make only a half of usual quantities, double costs.

The mannequin in the picture is approx. 6 ft., wore M size for tight fit.

The sizes are Japanese, smaller than the US ones. Please check the size chart and compare your T.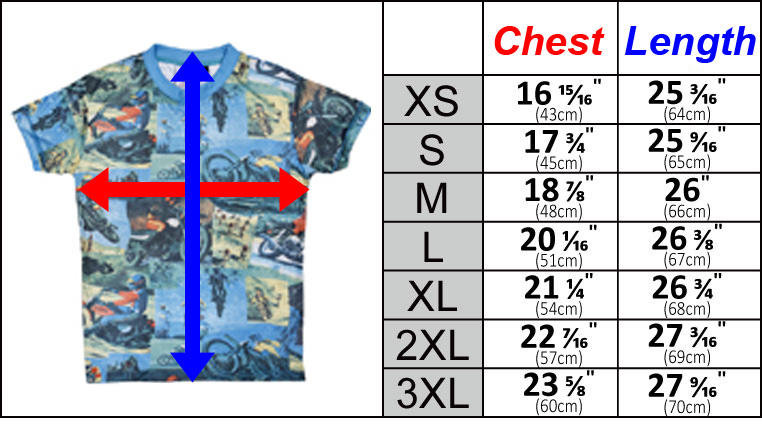 The standard shipping & insurance cost is US$8 to most countries (7-11 business days).
Express mail is $11 to U.S.(2 business days), $18 to Canada, $20 to UK/EU, $13 to Asia (4-6 days).


JP Size
Price
Availability

ITEM NAME:

MOTO

XS
$67.99

in stock

S
$67.99

in stock

M
$67.99

in stock

L
$67.99

in stock

XL
$67.99

in stock

2XL
$67.99

in stock

3XL
$67.99

in stock