Most of sterling dog tags are not same size as U.S. military ones, and just "engraved", but our pure silver(S999) dog tags are exactly same size and shape as the U.S. WWII notched ones, and can be DEBOSSSED by an vintage dog tag machine from WWII era, which also has small letters. The thickness is near double of the normal stainless dog tag for strength, the single tag is 12g(0.42 ounces). The chain and connector is sterling silver(S925).
Dog tags are usually debossed(embossed) 5 lines. Our machine can also deboss 4 lines centered vertically like the sample photos. 16 spaces per line. We recommend the hole on the right for this WWII type.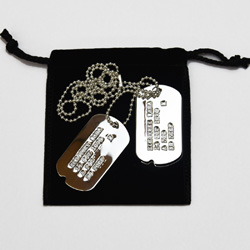 SIZE: Tag 50*28mm(1.9*1.1"), Long Chain 58cm(23"), Short Chain 11.5cm(4.5")
NOTE: Since the dog tag machine nips the bottom of the tag, it makes a very few scraches on the bottom edge.


Our dog tag machine can also deboss small letters & atmark etc., you can choose your email address.
If you want a heart mark, please enter $

The standard post is US$8 to most countries, but it's not available (to U.S., Canada, Australia, Russia, and some more countries), or very slow (to UK.EU) now. We'll let you know the availability when you order.
The expedited shipping is $20 to U.S./Canada (DHL 2-3 business days), $23 to UK/EU(DHL or EMS), $15 to Asia (DHL or EMS).
If actually lower, we will refund the difference.
To the other region, please contact us.