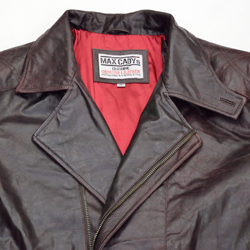 This is a screen accurate replica of the leather jacket/coat wore by Det. Spooner (Will Smith) in "i,Robot".
This cow leather has black/red gradation, it looks black in the dark, reddish in the light, more reddish if well-worn.
Accurate pattern & stitches including "shark gills" on the back arms.
New, never worn.
The size in the pictures is JP XL(US42).

This is a heavy jacket and the expedited shipping is $42~to U.S./Canada/Asia(DHL 2-3 business days), $76~to UK/EU(DHL or EMS).
If actually lower, we will refund the difference.
To the other region, please contact us.

JP Size

US Size
Price
Availability

ITEM NAME:

iRobot

S
36
$369
6-8 weeks

M
38
$369
6-8 weeks

L
40
$369
6-8 weeks

XL
42
$369
6-8 weeks

2XL
44
$399
6-8 weeks

3XL
46
$399
6-8 weeks