TOP PAGE

TOPGUN G-1

PATCHES

TOPGUN CAP

TRUE ROMANCE

BTTF DENIM

BTTF DOWN VEST

BTTF SHIRT

FIGHT CLUB CALF

TOUCAN SHIRT

MAPLE LEAF

MOTOCROSS

BLACK SUGAR

STAR T-SHIRT

TRACK PANTS

DOWN VEST

MAYHEM

SOCK IT TO ME

BLACK RIDERS

BATH ROBE

TERMINATOR

T2 / T2 PANTS / T3

ROCKY

RAMBO

SEVEN

FURY

MIDNIGHT RUN

DONNIE BRASCO

i,Robot

LETHAL WEAPON

THRILLER Stadium

THRILLER

BEAT IT Jacket

BEAT IT T-shirt

REBEL w/o a CAUSE

INDIANA JONES

AN OFFICER &
A GENTLEMAN

PRETTY WOMAN

KILL BILL

WALLET

JACK SPARROW

WILL TURNER

WILL Leather Coat

MORPHEUS

The BEACH

LÉON MATHILDA

SILVER DOG TAGS

Screen Accurate Pulp Fiction BAD MOTHER FUCKER Leather Wallet
This is a screen accurate replica of the leather wallet owned by Jules (Samuel L. Jackson) in "PULP FICTION".

It has not only the accurate embroideries, but also the accurate leather color and skin texture.
We can't see the left insde of the original wallet in the movie clearly, so we added the coin pcket for convenience.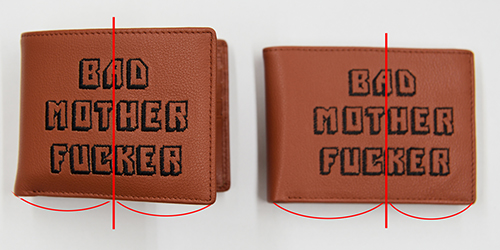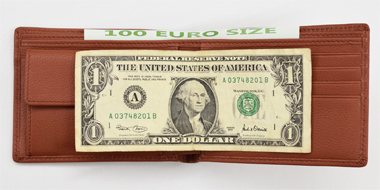 Thes size is exactly same as the one used in the movie, 3 1/2" x 9 1/4"(90 x 23.5cm) unfold, so €100 will be like the right photo. The embroidery is also located exactly same, it looks centered when the wallet is fat.

The standard shipping & insurance cost is US$7 to most countries (7-11 business days).
Express mail is $12 to U.S./Canada(2 business days), $18 to UK/EU, $13 to Asia (3 business days).

*We can make the "screen accurate" brief case with the original FRANZEN locks. Please contact us if interested.

JP Size

US Size
Price
Availability

ITEM NAME:

BMF-Wallet

-
-
$49

in stock