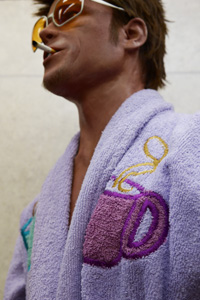 This is a screen accurate replica of the bathrobe wore by Tyler Durden (Brad Pitt) in "Fight Club".
It's made of fluffy terry cotton 100%, so are the 5 color coffee mags. 2 side pockets.
The sizes are Japanese, approx. 1 size smaller than the US ones

(Japanese Large ≈ U.S. Medium), and no larger size is available at this time. Please check the size chart.
This bathrobe is over 3lb.
Standard Post is not available or very slow now.
The expedited shipping is
$33 to U.S.
/Canada(DHL 2-3 business days), $59 to UK/EU(DHL or EMS), $39 to Asia (DHL or EMS).
If actually lower, we will refund the difference.
To the other region, please contact us.