This is a screen accurate replica of the M65 Field Jacket wore by T-800 (Arnold Schwarzenegger) in the 1st "TERMINATOR", 1984.

We faithfully replicated M65 field jackets in Vietnam era, with specially made gray cotton & brass zippers along U.S. military spec.*, not only regular size but also short and long sizes.

*If you had or bought same size(S to XL) of a military surplus quilted liner for M65, buttons/button holes on would correctly align and secure it to the inside of them (not included).

The jacket has been customized with PU leather and studs exactly same as the one in the movie (washable). Genuine leather (sheepskin) is also available with additional $50.
The chain (soldered round) is detachable, hooked with a large swivel snap on the left epaulette. If you get this special type of chain by yourself, you can save $5 and shipping cost for 1 pound.

The size in the pictures is 2X-LARGE REGULAR, out of U.S. military standard, no genuine quiited liner.

100% cotton and PU leather, washable, new never worn.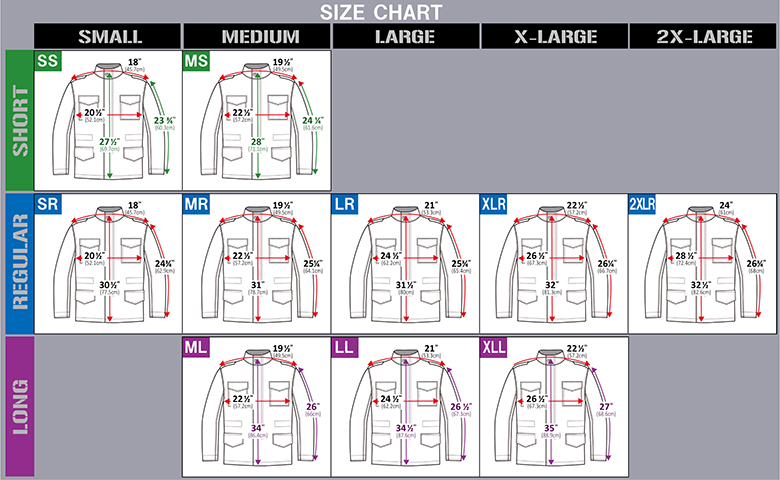 The package with the chain is 4 lbs.(2XL 5 lbs.)
Standard Post is not available or very slow now.
The expedited shipping is $40~to U.S./Canada(DHL 2-3 business days), $60~to UK/EU(DHL or EMS), $40~to Asia (DHL or EMS).
If actually lower, we will refund the difference.
To the other region, please contact us.

Please put "T1-M65R" if you want genuine leather ($335).
US
Price
Availability
ITEM NAME: T1-M65
SMALL SHORT
$285
4-6 weeks
SMALL SHORT
(

sheepskin

)
$335
in stock
SMALL REGULAR
$285
4-6 weeks
MEDIUM SHORT
$285
4-6 weeks
MEDIUM REGULAR
$285
4-6 weeks
MEDIUM LONG
$285
4-6 weeks
LARGE REGULAR
$285
4-6 weeks
LARGE LONG
$285
4-6 weeks
X-LARGE REGULAR
$285
4-6 weeks
X-LARGE LONG
$285
4-6 weeks
2X-LARGE REGULAR
$285
in stock