These are screen accurate replica of the patches for CWU27/P fright suits, wore by Maverick & Iceman in the moive. These patches are very durable (you can wash with the jacket with no color loss), acuurate and detailed, not a cheap copies. All of them are iron backing, you can attach them on your jacket easily.
You can choose three types, Maverick in shcool, Graduated, & Iceman.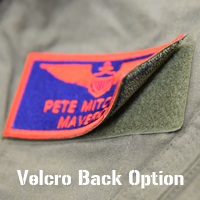 CWU27/P is not included, patches only. We don't sell each patches separately.

FREE SHIPPING WORLDWIDE

OPTIONALLY we can sew male Velcro on the back of the name patch for your CWU27/P(Please see the right picture. Only for the name patch for the left chest). Please let us know when you order.